BLOGGER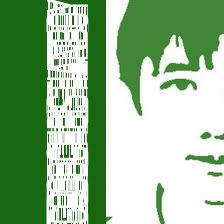 Youngest kid of six with an inferiority and black sheep complex, but determined that God saves not just his soul to heaven but the remainder of his manic-depressive life, so others won't say he became a Christian and remained a jerk.




MAIN THEMES


On identity
i won't be transparent before i'm opaque. and you'll get to know me starting from the small things: who my favourite bands are. what kind of movies i like. who are my heroes.

On Christianity
I'm convinced that when confronted with sincere, real love, the Jesus factor will become obvious. But let's not plant the cross before we carry it. I'm not trying to con you.

On dreams
Some dreams are meant to be achieved. I know that. But maybe other dreams are meant to drive us, privately. Never known to anyone but ourselves.




OTHER THEMES


On melancholy
It is a sadness that, when choosing between crying and sighing, will choose sighing. I'd almost say that melancholy is being sad about sadness itself.

On memory and nostalgia
It saddens me when life moves forward and people decide that certain things are worth forgetting.

On language
I've learnt that the word irregardless is filed as a non-standard word in the English language. That's a lexicographer's way of saying it's not a real word.

On politics
Crowds are fickle things. So when we stand in the thousands and cry against the present government, do we know who we're actually crying for?

On society
People always want the best for themselves. But I want to sometimes take second or third or fourth best, just so that the loser down the road doesn't always have to come in last. It must feel like shit to always come in last.

On growing old
Leasehold property make me feel sad. It doesn't matter how old the family photos are that you put on your wall. It's your family but it's not really your wall.

On philosophy
I ask you, if God loves everyone, and if God is also incapable of loving evil, how can there be such a thing as an evil man?

On a daily basis
One line quips, like this.


CHAT







VISITORS

FEEDS
ARCHIVE
March 2004
June 2004
July 2004
August 2004
September 2004
October 2004
November 2004
December 2004
January 2005
February 2005
March 2005
April 2005
July 2005
March 2006
April 2006
May 2006
June 2006
July 2006
August 2006
September 2006
October 2006
November 2006
December 2006
January 2007
February 2007
March 2007
April 2007
May 2007
June 2007
July 2007
August 2007
September 2007
October 2007
November 2007
December 2007
January 2008
February 2008
March 2008
April 2008
May 2008
June 2008
July 2008
August 2008
September 2008
October 2008
November 2008
December 2008
January 2009
February 2009
March 2009
April 2009
May 2009
June 2009
August 2009
September 2009
October 2009
November 2009
December 2009
February 2010
June 2010




Sunday, August 31, 2008

DEHYDRATED



Fergus, you look dehydrated.
I'm not dehydrated. I'm demoralised.

Labels: daily





Genusfrog

[ 3:24 pm ] |


Friday, August 29, 2008
BOOKS
They put these books between us.
Labels: daily
Genusfrog
[ 3:15 pm ] |


Thursday, August 28, 2008
NAPOLI & STELLA
The day of Stella Artois.
Labels: daily
Genusfrog
[ 3:33 pm ] |


Wednesday, August 27, 2008
FISH AND J BEER
The day of saba shioyaki.
Labels: daily
Genusfrog
[ 3:19 pm ] |


Tuesday, August 26, 2008
HOW FAST DO YOU TYPE?
104 words per minute.
Labels: daily
Genusfrog
[ 3:38 pm ] |


Monday, August 25, 2008
LOVE
The day of fried sardines.
Labels: daily
Genusfrog
[ 3:34 pm ] |


Friday, August 15, 2008
PREMIERSHIP THIS YEAR
Been reading what i can on the new premiership season and people are starting to give table-finishers predictions. i've been thinking that there's no real value to these things. my opinion is as bad as yours, and by may, nobody's really gonna be diligent enough to dig up predictions made in august to vindicate their clairvoyance. in short, big deal.
but i know now what the world needs. it doesn't need another seemingly accurate predictive table. it needs a table that tells a good story realistically. that i've tried to do. here, i present to you, the english premiership 08/09 table.
1. Liverpool
2. Man Utd
3. Chelsea
4. Tottenham Hotspur
5. Arsenal
6. Aston Villa
7. Portsmouth
8. Newcastle United
9. Blackburn Rovers
10. Everton
11. Sunderland
12. Fulham
13. Hull City
14. Middlesborough
15. West Ham Utd
16. Wigan Athletic
17. Stoke City
18. Man City
19. Bolton Wanderers
20. West Bromwich Albion
liverpool wins the league with one week to spare. the anfield faithful go beserk as torres thumps in the winner in their penultimate game of the season. songs fill the city. everyone paints the town red. spanish flags fly from windowsills. rafa flags adorn cars.
behind them, man utd have another solid season. chelsea have a mixed season, starting well but going shambolic towards the end. players go on strike. indiscipline becomes rife and scolari, in putting his thumb down, freezes important players out. it's war on the bridge. they finish third.
after that it's north london's tottenham, pipping arsenal to the fourth champions league spot on the last day of the season. wenger is despondent. his young team doesn't know what hit them. gallas throws a tantrum and punches an official. across town, juande ramos is hoisted into the air like a war hero. david bentley, scorer of their last day winner, is iconised as he seals his place in the england team. he arrives on the streets of london showing off a new haircut.
meanwhile, at the bottom of the table, disaster has struck. thaksin has sold his man city stars. after that, he's sold up. for half the season, the club's future is in limbo and player wages are frozen for a week in february. morale crumbles. brazilians jo and elano click and they score goals, but the backline leaks like a teabag. mark hughes resigns in october and they hire graeme souness. by march, they second from the bottom. by early may they are third from bottom. they have the chance to avoid relegation. but defeats in the last two games sends them down. the blue half of manchester are in tears.
as for the chasing pack, hull do remarkably well, finishing mid-table, and stoke survive thanks to city's meltdown. newcastle, against all odds, finish respectfully in eight.
Down in the Championship, Flavio Briatore funded Queens Park Rangers finish the season unlikely champions. Sheffield Wednesday finish second to join them going up. The playoffs finish with Nottingham Forest grabbing the last spot. City Ground faithful pack Wembley on playoff final. Finally Forest are back in top flight. Everywhere else in England, they are crowning Liverpool as the new champions.
Labels: football
Genusfrog
[ 3:00 pm ] |


WHAT CAN IT BE?
Not liquorice! Not gummies!
Labels: daily
Genusfrog
[ 2:32 pm ] |


Wednesday, August 13, 2008
IRREGARDLESS
This isn't exactly breaking news to me, but i've learnt that the word
irregardless
is filed as a non-standard word in the English language. that's a lexicographer's way of saying it's not a real word.
irregardless
is largely known to be a combination of
regardless
and
irrespective
, but it ends up having a prefix ir~, which means non-, and a suffix ~less, which also means -non. hence, it's a double negative word. and is no good for use.
nonetheless, i know lots of people who use it. i've used it many times before this discovery too.
moral of the story?
regardless
will do.
Labels: language
Genusfrog
[ 5:16 pm ] |


Monday, August 11, 2008
HOPE FOR THE HOPELESS
Time to show it.
Labels: daily
Genusfrog
[ 5:21 pm ] |


Sunday, August 10, 2008
SCOPE
Do I even have a say in this?
Labels: daily
Genusfrog
[ 3:15 pm ] |


Saturday, August 09, 2008
FAVOURITE MOMENT
When our team came out.
Labels: daily
Genusfrog
[ 8:30 pm ] |


Friday, August 08, 2008
YAO MING
I think she needs some time to put her brains together again.
Labels: daily
Genusfrog
[ 10:45 pm ] |


Thursday, August 07, 2008
FIVE TIMES
Eight twelve four eight twelve.
Labels: daily
Genusfrog
[ 9:06 pm ] |


Wednesday, August 06, 2008
MOMMY BLOGS
Athalia's been surfing a lot of mommy blogs. wait, correction. athalia's been surfing mommy blogs a lot. just a few, but she ploughs through them, right into the archives and devours everything. first it was
heather
's blog,
dooce
. heather's this ex-mormon mom with a little girl called leta and her husband jon.
because she (she here being athalia) reads it like the daily bread, i try to keep up as well. otherwise, she'll drop a line somewhere in the evening like "you know when heather something something last week?" and i'm "err... ya. but you know, i don't retain these things very well". so anyway, that's heather in the picture, on the right, on the today show. yes, i even knew she was gonna wear that dress before she did the show. i've been reading i tell ya.
but now it's not just heather anymore. it's also a british mom called
antonia
. with her little girl esme. and her lover ian (the first draft of this post had "boyfriend" but i've since been corrected. ian is antonia's
lover
). antonia's blog is called
whoopee
and i've just added her rss feed to my daily drip-feed. in a matter of days, i'll be acquainted with the daily lives of two young mothers, retained in homage to every ounce of liverpool junk that athalia has taken on board to read with a smile. difference is, these moms aren't hot. not even in the fernando torres kinda way.
nonetheless, antonia is frighteningly like athalia. they must have hired the same general to strategise all their
domestic fights
. which makes reading antonia's blog doubly important for me, as i've just pointed out to her: (1) because she likes it, (2) because she's like it.
mommy blogs are a whole blogging genre of their own. and reading them is gonna become a norm for me now. i just know it. and one day, athalia's gonna become one herself. heck, she's gonna become the mommy blogger of mommy bloggers. just she wait.
Genusfrog
[ 3:32 pm ] |


Tuesday, August 05, 2008
NO WORRIES
The crunch isn't on my side.
Labels: daily
Genusfrog
[ 9:33 am ] |


Monday, August 04, 2008
IT STARTS AGAIN
Three in two hours is much better than last year.
Labels: daily
Genusfrog
[ 6:15 pm ] |